Podcatcher has been discontinued in the Windows Phone Marketplace. Thank you to everyone who used and liked Podcatcher over the past 2 years! Time has gone to move along and let Microsoft show how the podcast experience should be in Windows Phone 8.1.
You can grab the source code for the unpublished version of Podcatcher for Windows Phone 8.0 here: https://github.com/kypeli/Podcatcher
Podcast client comparison for Windows Phone on
All About Windows Phone
:
"However, for podcast fans from other platforms (perhaps refugees from Symbian or Android), run, don't walk, and get Podcatcher."
,
Steve Litchfield, Podcatcher roundup: Podcatcher, Podcast Lounge, Podcast Bandit, and more...
"Heartily recommended, whichever mobile platform you're on. For Windows Phone, it's probably the leading application of its type."
,
Steve Litchfield, allaboutwindowsphone.com
"If you are in the market for a solid performer you should certainly give Podcatcher a spin, you might just like it.",
Robert Brand, wpcentral.com
"The best podcast app for WP.",
Deirdre 5/5
"Had been using Podcasts! But Podcatcher is far better. Works well with my Bluetooth car audio, in that it auto pauses and plays as the bluetooth disconnects and connects. Also has a much better user experience, presenting your subscription on startup then easily play what you want. Easily search and add podcasts, really great app!!!!", 
Andrew 5/5
Podcatcher is a podcast client for your Windows Phone smartphone. I've created a
podcast client
with the same name for the Nokia N9 smartphone. This is a complete rewrite of that application, but with the same goals in mind; to make consuming of podcasts as enjoyable and effortless as possible. To do this, Podcatcher for Windows Phone features some great functionality such as
Live tile support.
Subscriptions

Find podcasts using the built-in search
Subscribe to premium podcasts that require authentication
Import subscriptions from your gPodder.net account
Keep your subscriptions clean by specifying how many episodes to keep.
Find podcasts among the popular ones on gPodder.net
Export subscriptions in OPML format either via email or to SkyDrive
Import subscriptions in OPML format from a web location.

Built-in podcast player

Resume functionality that remember last player position
Continuous playback from one episode to the next.
Control the audio playback from the lock screen or Bluetooth headset.
Download and play episodes locally, or stream them immediately remotely
Play history

Intelligent maintenance and settings

Automatically download new episodes to subscriptions.
For automatic maintenance, set how many episodes to keep per subscription.
Delete automatically listened episodes

Download management

Background file transfer even if Podcatcher is not running.
Queue as many podcasts as you like for downloading.
Respects platform download policies to save battery.
Change log
Version 2.5.1.0
Optimize memory consumption by scaling down images. No more crashes due to out of memory errors.
Version 2.5.0.0
Add a "Browse" view to browse through categories of podcasts when you add a new podcast
Redo the layout for the "Add subscriptions" view.
Replace "Recent" list with "Latest" list showing latest episodes within all subscriptions.
Fix marking episodes as listened when tracks end. What a horrible kludge that is, so thank you Windows Phone 8.
Update the play position in player view immediately when the view opens and not after a second.
Launch performance improvements.
Make podcasts from wizards.com work. Their "pubDate" is faulty.
Fix: Don't add duplicate episodes even if the podcast stream says the pubDate has changed.
Fix: Improve updating partially and unplayed episodes at startup.
Relax on the required OPML file format: Don't require the "rss" attribute.
Version 2.4.3.0
Mark individual episodes as listened.
Don't refresh subscriptions if we don't have Internet connection or if we are in flight mode.
Fix bug: Crash if playing a video podcast.
Version 2.4.2.0
Bugs fixed:

Save podcast play position more reliably.
Reliably mark episodes as listened.
Delete episodes when they are marked as listened, if the setting is enabled.

Add episodes to play history when an episode is listened to in the background.
Show player UI when we start episodes from the play queue.
Show episodes as paused when restarting Podcatcher.
Update play position to play history view also when episode is paused.
Fix crash in player when asking for the current position.
Version 2.4
Introduce a play queue.

All items from the subscription's downloaded view can be added to the play queue.
Add single episode to play queue by long pressing on the episode.
Add setting that gives the possibility to add all downloaded episodes automatically to the play queue.
Sort the play queue with newest or oldest episode first.

Change the layout of the episode listing to better utilize the whole screen.
Change how the lock screen buttons work.

If play queue is not empty, pressing next will take user to next episode.
If  play queue is empty, pressing next / prev will skip 30s forward/backwards.

Remove Continuous playback option from the subscriptions settings.

Play queue replaces that functionality.

Added progress bar to recent items in the "Recents" view.
Show downloading and queued episodes also in the "Downloaded" view of episode listing.
Tap on the playing episode in episode listing to open the player.
Improve memory management and caching of podcast logos.
Fix/Change: Mark all episodes as listened to, even if they haven't yet been listened to at all.
Fix many things in the podcast player.
Fix marking of listened episodes really as listened.
Refactoring of the podcast player code and other bug fixes.
Version 2.3
Continuous playback from one episode to the next one in a subscription.
Skip to next episode in subscription from the lock screen (if continuous playback is enabled).
Continue playback from saved position for streamed episodes.
Version 2.2
Cleanup options per subscription to keep just a number of podcast episodes in a subscription.
Pin subscriptions to main view and show the number of new episodes in the live tile.
Clean the main view listing to only show relevant information of the subscriptions.
Show the cover art of the playing podcast in the Podcatcher live tile.
Show usage information for downloaded episodes in the Settings view.
Possibility to delete all downloaded episodes at once for a subscription.
Possibility to delete all downloaded episodes for all subscriptions.
Possibility to mark all podcast episodes as listened for a subscription.
Improve the storing of playback position for playing episodes.
Add a setting to specify how much of a podcast is listened after which it is considered to be 'listened'.
Import podcasts from OPML file.
Version 2.1
Export feed information in OPML format.
Fix icons and texts for light background color.
Multiple fixes for crashes.
Handle podcast icons better.
Version 2.0
Overall UI polish
Import your subscriptions from gPodder.net.
Subscribe to podcasts that require authentication.
Improve player navigation UX so that back stepping history is not lost.
Replace player pivot view with play history view for current and recent episodes.
Tap now playing item to open player
Tap recent item to open the subscription.
Replace one action button in episodes with two separate buttons for play/stream and download.
Do not lose download queue after restart.
Make podcast episode list view more Windows Phone styles.
Add pivot view to the subscritpion view to show all downloaded episodes.
Show episode state next to the episode.
Show download progress in the episode listings view.
Improve audio handling when switching between Windows Phone apps.
Compensate for lacking timestamp in feed; supported format is now also "Tue, 18 Dec 2012 06:34"
Fix: Don't lose bookmark when starting audio playback in some other app.
Fix: Handle properly downloads that have been finished in the background.
Fix: Support ESPN podcast episodes.
Version 1.3.0.1
Podcast episode description view with download button.
Settings for:

Auto-continue playback from last saved position.
Automatically clean old played episodes.
Try downloading using cellular data

Add one-time popups to notify user about Windows Phone download policy when downloading (larger) episodes.
If podcast feed announced wrong file size and D/L fails because of that, user can try again with TransferPreferences.None
Windows Phone 8 crash fix: stop timer and screen update when the player is not visible.
Change main view pivot headers to match Windows Phone style (so people understand it can be swiped).
Bug fixes
Version 1.2.2.0
Add indication of play progress to episode listing.
Hide toolbar for other than the first page.
Fix Bluetooth audio handling.
Fix handling of pause event when headphones are removed.
Fix many crashes
Version 1.2.1.0
Improve overall stability
Use default podcast icon if subscription's icon cannot be used
Fix main view layout
Version 1.2.0.0
Fix a crash
Improve on memory usage
Version 1.1.0.2
Audio and video podcast streaming.
Support for video podcast download och playback.
Podcast description in search results when tapping on one.
Indicator for when podcasts are being refreshed.
New icon.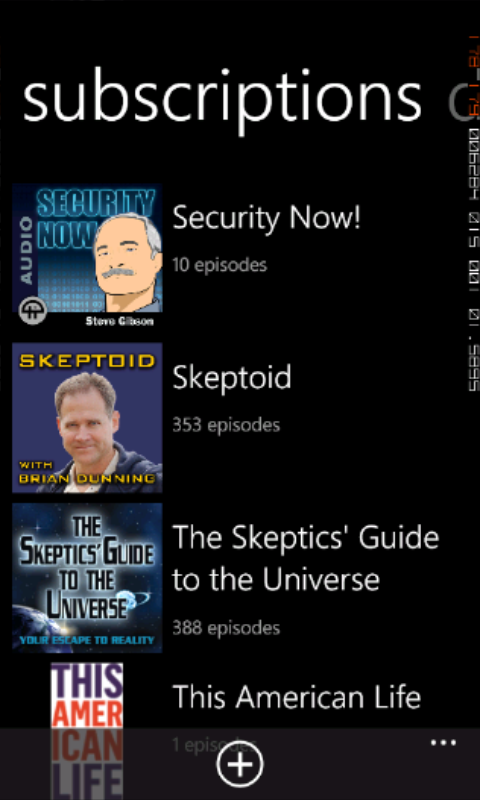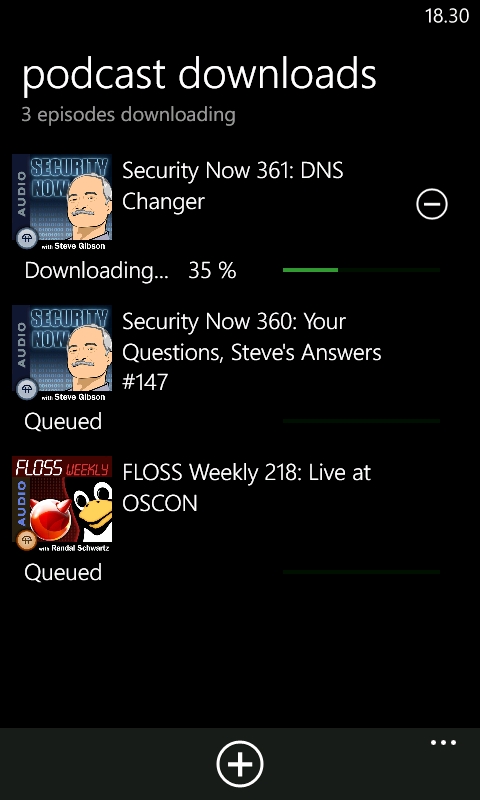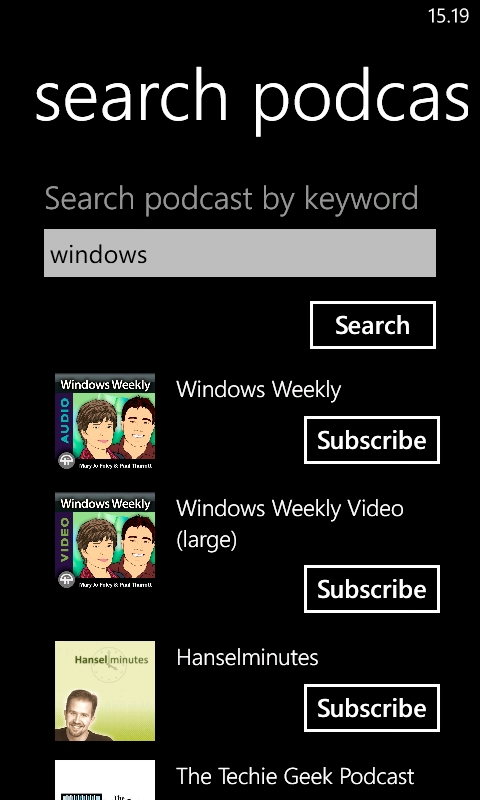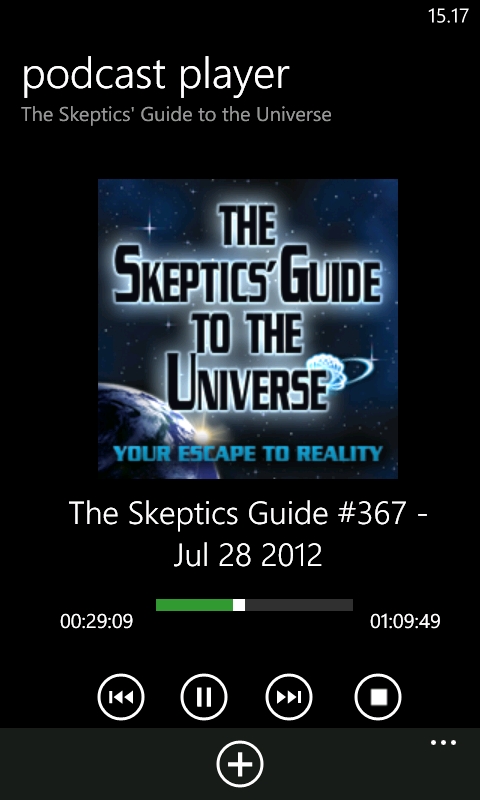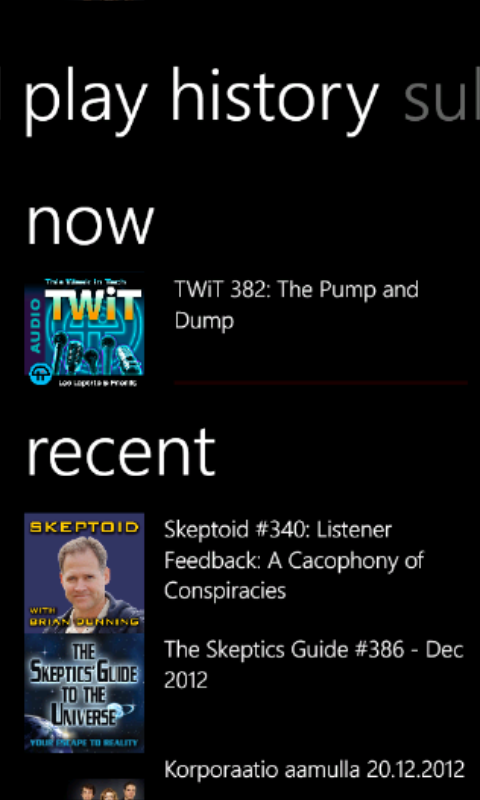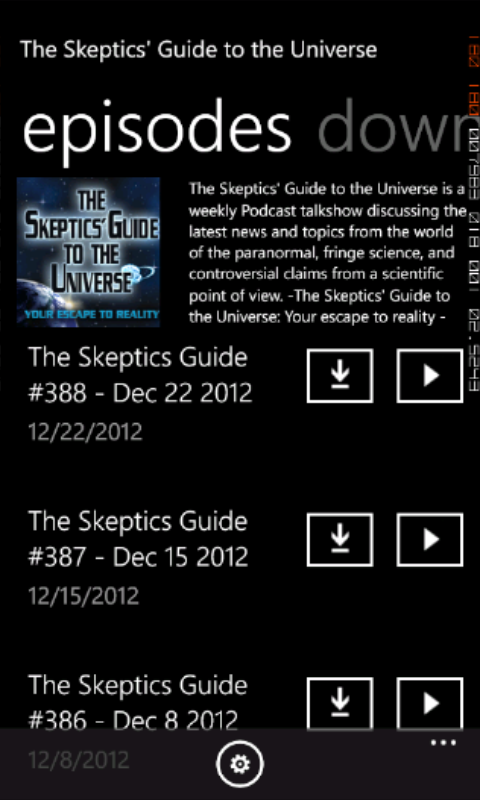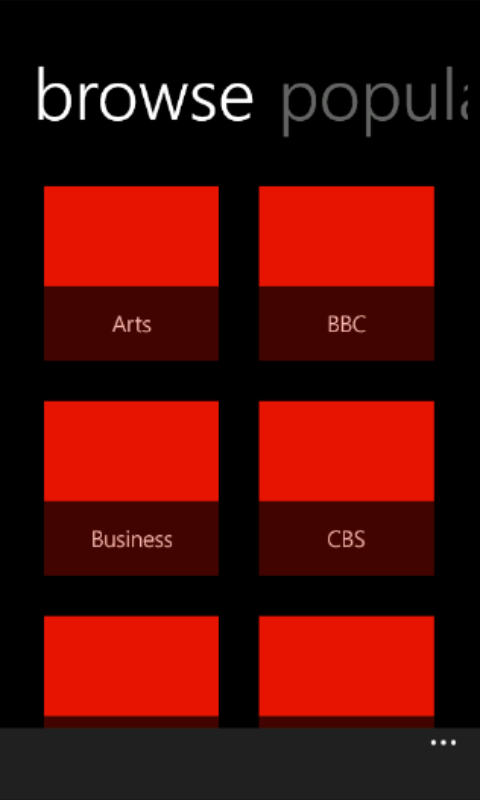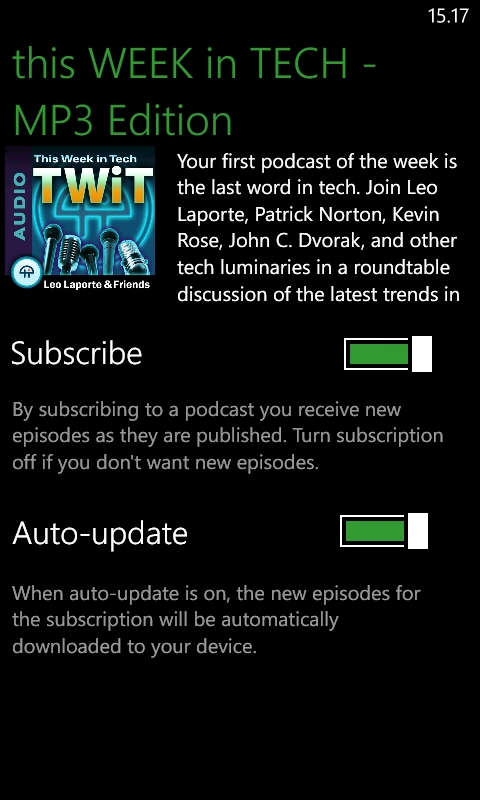 Source code
Podcatcher for Windows Phone is open source software and licensed under the GPLv2 license. Source code is available at
https://github.com/kypeli/Podcatcher/
 Contact me
If you have any questions about Podcatcher or if you've found a bug or a podcast that doesn't work with Podcatcher, feel free to contact me at johan@paul.fi or on Twitter at
@kypeli
. For updates regarding the app, you can follow the Twitter account
@PodcatcherWP
.