Your intelligent podcast client.
Get it now!
Podcatcher for N9 is available from Nokia Store now! There is a free, lite, version that is limited to three subscriptions only. If you like Podcatcher for N9, I hope you will purchase the full version that has unlimited subscriptions. Links to Nokia Store are below.
Source code for Podcatcher for N9 is available online too at
http://projects.developer.nokia.com/hpodcatcher
.
So what is it...?
Podcatcher for Nokia N9 is a new podcast client that I have been working on for the past couple of weeks. Because I am an active podcast listener, I found the lack of a podcast client somewhat of a loss when I received my Nokia N950 developer device. There are
great
podcast
client out there that will definitely hit the Nokia N9 via Nokia Store sooner or later, but I wanted to create a client that would fit my podcast subscription and listening needs and that would run great on the Nokia N9. I took some inspiration from previous podcast clients that I've used on Android handsets and I now want to present the results. Finally, I wanted to make the performance of my podcast client as good as possible. The backend of Podcatcher for Nokia N9 is written in C++. The UI utilizes native widget thanks to Qt Components and Qt Quick, while the data is cached into a local SQLite database. This all ads up to some great performance. Please have a look at the screenshots and the video below. I hope you like them!
I am a MeeGo, Maemo and Qt guy, but I have been working with Nokia for a long time to have been using Symbian devices a lot. A have also owned a Nokia 5800 for a while, before I got my Nokia N900. I think I have enough credibility to be able to say a few words about the
Nokia N8
. I have only been playing with it for some hours now so these are really just my first impressions and I doubt I will even write a more thorough review since the Internet is probably already filled with them. I would also like to say that since I have been using the Nokia N900 for a year now, I will automatically compare the N8 to it.
Nokia has released a technical preview of their second Qt and C++ based UI Framework (the first being
Maemo 6 UI Framework
) called Orbit or DirectUI, this time with the name
UI Extension for Mobile
. Source code is publicly available under the LGPL license at Gitorious:
http://gitorious.org/uiemo
. I need take a closer look at the source code, but my initial impression is that the APIs are clean and very Qt-like. Nice job! The nice thing is also that the source code compiled without problems in my Ubuntu 9.10 and in Maemo5 SDK with the latest Qt 4.6 packages. Unfortunately there are only two binaries (that I could find) included called hbthemeserver and themechanger. I have a screenshot of themechanger below. This is the only actual application and glimpse of the UI framework in action (please let me know if  you find anything else!).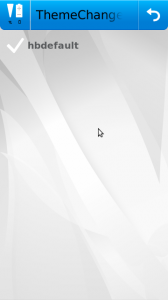 Yes, it runs in Maemo5 too 🙂