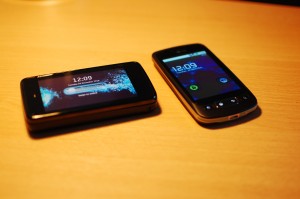 I recently got myself for Christmas an 
LG Optimus One
Android 2.2
device and I must admit: this is my first real encounter with an Android device even though I've had many phones over the years. For the past year, since Maemo Conference 2009 in Amsterdam, 
I've been using
the Nokia N900 Maemo5 phone which I have been pretty happy about. Since Maemo 5 and especially any upcoming MeeGo handset is considered to be an contender for current Android phones I want to give you my take on the Android OS from an N900 user's and Maemo5 perspective. I have divided this post into five areas in which I think the N900 is strong (or at least in which it wants to be strong) and compared those to Android.
I am a MeeGo, Maemo and Qt guy, but I have been working with Nokia for a long time to have been using Symbian devices a lot. A have also owned a Nokia 5800 for a while, before I got my Nokia N900. I think I have enough credibility to be able to say a few words about the
Nokia N8
. I have only been playing with it for some hours now so these are really just my first impressions and I doubt I will even write a more thorough review since the Internet is probably already filled with them. I would also like to say that since I have been using the Nokia N900 for a year now, I will automatically compare the N8 to it.